A carillonneur plays the bells on a keyboard for carillon. This keyboard is very similar to a piano's one except that on a carillon, the keys are replaced by wooden sticks.
A piano keyboard has black and white keys. The black keys are positioned a bit up compared to the white keys. This is similar on the carillon's keyboard: you'll find an upper row of sticks, divided by groups of 2 and 3, and underneath that, a complete row of sticks. These sticks are played, pressed by hand.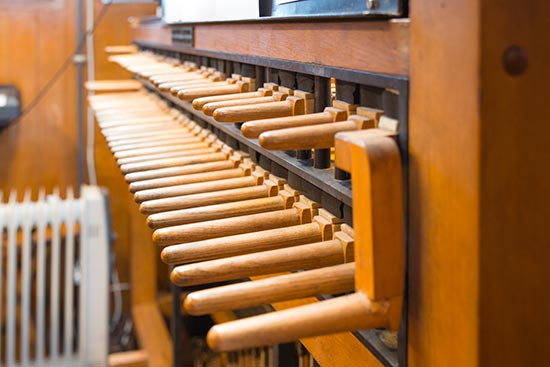 In contrast to a piano keyboard, the carillon's keyboard is also equipped with pedals. That is why the link to an organ's keyboard is easily but mistakenly made. In the past, the organist oftenly was required to play the carillon as well since the keyboards of both instruments look very similar. But that's as far as the comparison stands. Both instruments are different to play.
Early in the 20th century, dedicated carillon schools were founded where focus and efforts were aimed at the specific playing techniques which are essential and unique to play carillon at an acceptable level.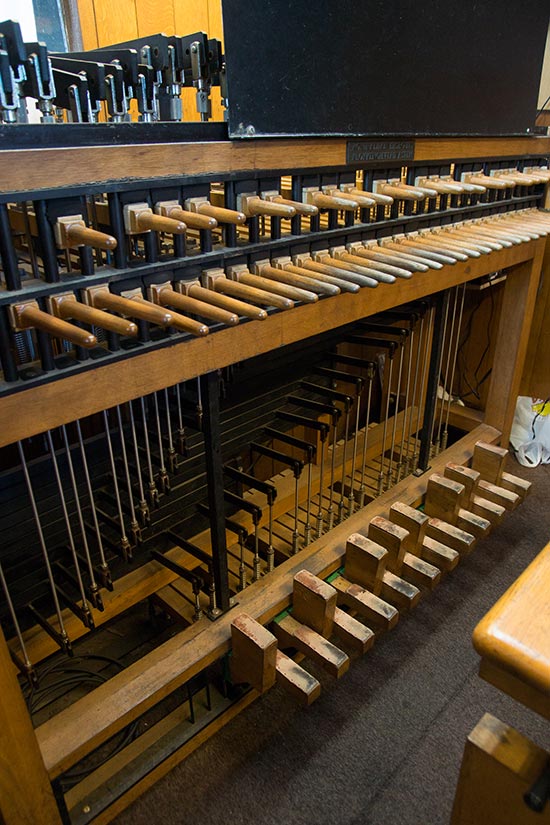 One of the most vital techniques playing a carillon is to master a good balance between low and high bells. The heaviest bells (the bass bells) start at the left side of the keyboard. The more one moves to the right, the lighter the bells will weigh (high tone bells).
While pressing a stick, the clapper gets pulled against the bell. On heavy bells, these clappers might weigh dozens of kilograms. Therefore, a carillon's keyboard is equipped with a pedal keyboard so the carillonneur can set the heavy clappers in motion with his (more powerful) feet.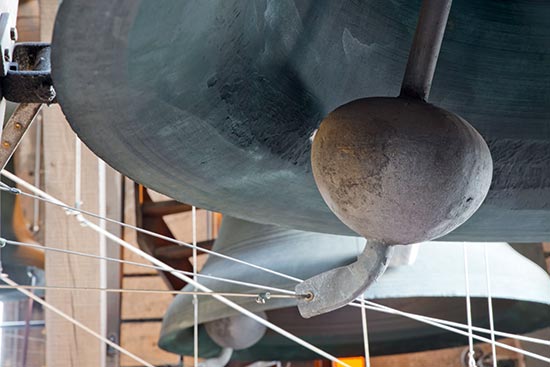 Nevertheless, the heavier bells to play by hand can become a serious burden, wearing and tearing the carillonneur's hands. To protect his pink, the carillonneur often wears a protective leather.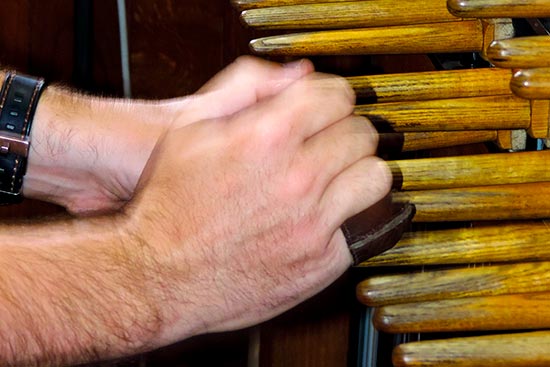 The heaviest (and thus the lowest bass bell, the 'Klokke Roeland' in this case) weighs 6.050 kg. The lightest and smallest bell weighs 9 kg. The total weight of all these bronze bells is 30.129 kg. The total weight a tower can bear depends on its size. A solid tower like the Belfry's one (construction started in 1313) has capacity for serious weight and given the heavy bells installed, one classifies it as a 'heavy' or 'romantic' carillon.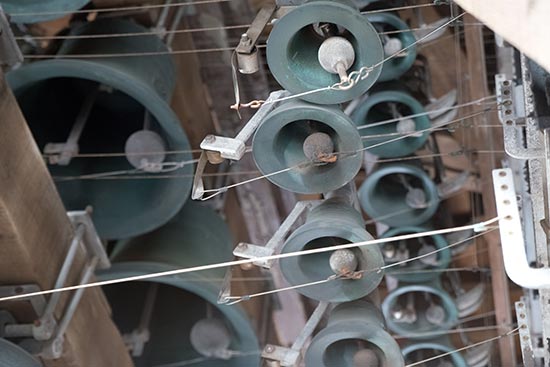 It has been built at a height of 80 m. and has a spacious but closed bells room. The room has only 4 resonation holes. This all adds an extra dimension to the sound of the carillon of Gent. The space creates more resonance within the tower and the sound is well directed. You could compare it to the resonance box of a pianoforte that is created when opened.
No single musical instrument lacks standardisation as a carillon. Every carillonneur who plays on several carillons has to cope with numerous differences in the number of bells, variations in weight of all bells, a different keyboard setup, meantone or none, transpositions to different tonalities, differences in immersion of the sticks, availability of more or less pedals,... Improvisation is a must. But, and that's the beauty of it, all these differences make every carillon so unique and a challenge for every carilloneur worth playing it.
The first city carillonneur of Gent was Pieter Jacob van Hoelbeke, appointed in 1553.
Since 1982, Jos D'hollander has been city carillonneur and still is carillonneur of honor.
From 2013 till present, Kenneth Theunissen is city carillonneur.
Technical data
Meant for guest players (Dutch only)
Beiaardklavier is Noord-Europese standaard, Eijsbouts uit 1981
Omvang manuaal: bes0 chromatisch tot f5
Omvang pedaal: bes0 – c1 – d1 – es1 – chromatisch tot g2
Stemming: middentoonstemming
Transpositie: kleine terts omlaag op 427 Hz
Totaal klokkengewicht: 30129 kg (basklok g0 = 6050 kg)
Aantal klokken: 54
Inrichting: bovenstoel Mechels tuimelaarsysteem, onderstoel (bassen) gericht tuimelaarsysteem
Klokkengieters: 24 klokken van Pieter Hemony, 1 klok van Jan Pauwels, 1 klok van Joris Dumery, 28 klokken van Eijsbouts
Elektronic carillon
This carillon allows travelling to perform on other locations like stages, open air concerts, concert halls,...
It also creates great opportunities to perform on concerts with other musicians and instruments
Technical data
(Dutch only)
49 klokken: BES,C,D,ES,…c in discant
Apollo 2 (transponeerbaar/herstembaar: 430Hz tot 445Hz, galmregeling,...,…)
2 luidsprekers ingebouwd, maar kan ook aangesloten worden aan geluidsinstallatie
Klavier: van Marcel Michiels Jr. (1898-1962) te Doornik. Deed oorspronkelijk dienst als beiaardklavier in de basiliek van Oostakker. Werd nadien omgebouwd tot mechanisch oefenklavier en kreeg een nieuw leven in het Belfort van Gent. In 1988 werd dit het oefenklavier van Kenneth, die besloot om het klavier in 2009 om te laten bouwen door de firma Clock-O-Matic.